While deck construction is not a service we offer, and really has nothing to do with lawn care, we were recently emailed about a blog article posted at www.lawncareservice.net with details on how to build a deck that lasts. After reading the article, we have decided to share it with our viewers so it may benefit you as well.
10 ways to build a deck that LASTS
Have you ever seen a home that has a dilapidated deck on it? It can ruin the whole appearance of a house. If a deck is constructed properly to begin with, and then properly maintained, there is no reason for this to happen. Following are ten important ingredients to building a deck that will last.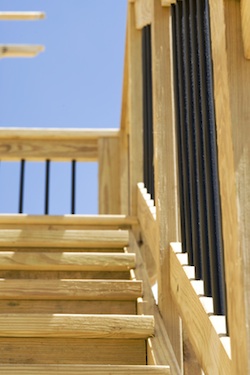 Post foundations
Support posts
Attachment to house
Fasteners
Deck joists
Decking lumber
Weather protection
Vinyl decks
Compost decks
We are not going to share all the details and descriptions of the ingredients here, as the post is not originally ours. However you can view the entire article here http://www.lawncareservice.net/blog/2011/10-ways-to-build-a-deck-that-lasts/